Bed Valance, Massachusetts, ca. 1770. Wool embroidery on linen
•
http://www.history.org/history/museums/collections/images/1962-309.jpg
Sampler. Mary Welsh (1760-1820), Boston, Massachusetts, ca. 1770. OH: 23″; OW: 16 3/4." Silk on linen.
http://quiltinspiration.blogspot.nl/2011/05/quilt-inspiration-classics-hawaiian.html

Exposure-corrected copy of Image:Hawaiian_Applique_Quilt.jpg. Original Flickr description: These authentic Hawaiian tapestries are hanging in the lobby of our hotel (Kauai Sands).
•

From http://www.craftsy.com/
Narrative, metaphorical and relational space.  The space of quilts is not just the overall, it's the space of the movement across and within.  It is also the space of daily interaction.

Applique Quilt, 1850. Made by Mary Jane Kirckpatrick Harlan. Rush Co, Indiana.
The problem, in my view, is the underrepresentation of formal intention, misunderstood as parochial or naive, in critical thought.  I'm in no position to critically judge these to the extent they reflect the artist's hand, but I love them.


Any of these could be "pathways" through a game.
Robbi Eklow
Pictorial Quilt, 1795. Linen, multicolored thread. Brooklyn Museum
The below image  has both interesting color and spatial complexity, to me.
 
This, to many people, is a treasured object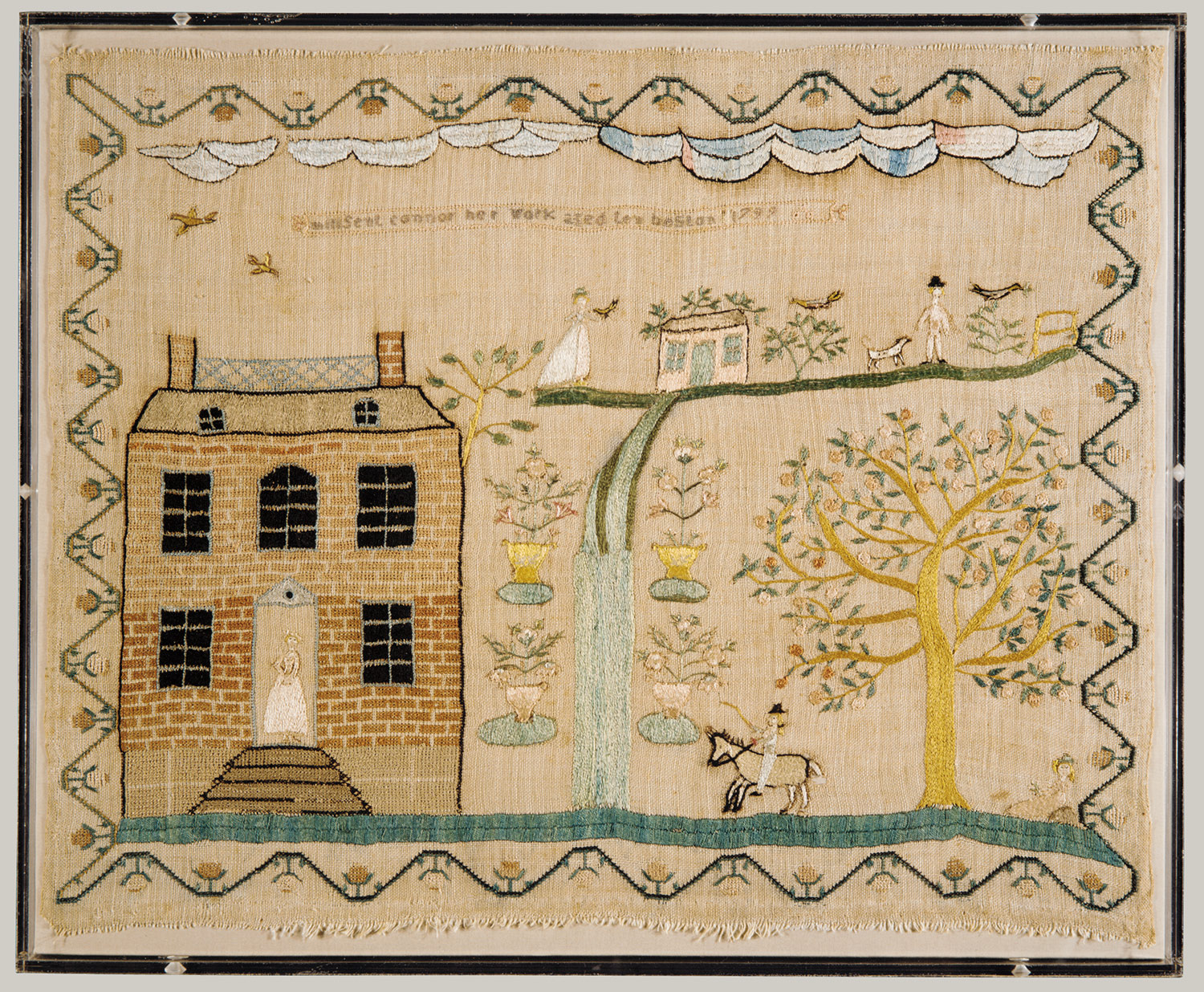 Millsent Connor (American, born 1789) Boston, Massachusetts
I love this image

This game was all about leveling and the space (Barnett Newman?) and the color changed richly as one progressed, as I recall.


Few thoughts from my background.  One, the color of Atari games was really compelling and made me want to level.  The space of Atari games is flat, eternal kind of space and has been used in quilts already but the space of quilts, to me, is the same kind of space but is a rich tradition that I adore.  The other is that Gary Gygax created magic and mystery.  My question: what were the connections between the visual work created for D&D and the concept?
http://barbarabrackman.blogspot.nl/2014/05/star-plus-cut-out-chintz-applique.html

Collection of New England Quilt Museum
National Museum for Women in the Arts in Washington DC
This is the basic ground, for me, for most 2D games.  The 2D, eternal kind of space of American textiles is still way under-appreciated and every time I look, I get ever more interested in all of the textile arts.


http://www.collectorsweekly.com/articles/an-interview-with-winterthur-textiles-curator-linda-eaton/
Martys Fiber Musings https://www.flickr.com/photos/38126168@N05/
http://www.auburn.edu/academic/other/geesbend/explore/catalog/slideshow/
•
http://upload.wikimedia.org/wikipedia/commons/thumb/c/ca/The_Hunt_of_the_Unicorn_Tapestry_1.jpg/640px-The_Hunt_of_the_Unicorn_Tapestry_1.jpg
One of the tapestries in the series The Hunt of the Unicorn: The Unicorn is Found, circa 1495-1505, the Cloisters,Metropolitan Museum of Art, New York City


Verdure with Deer and Shields, accompaniment to the Holy Grail tapestries woven by Morris & Co. 1891-94 for Stanmore Hall. This version woven by Morris & Co. 1900 for Mrs. J. T. Middlemore. Wool and silk on cotton warp. Birmingham Museum and Art Gallery.
•
http://en.wikipedia.org/wiki/Joseph_Yoakum
http://en.wikipedia.org/wiki/Agnes_Martin

I just really encourage people to look for things that touch them for personal reasons when viewing some of these incredibly moving portraits but I see them as social portraits not works in a fixed historical line.
♥